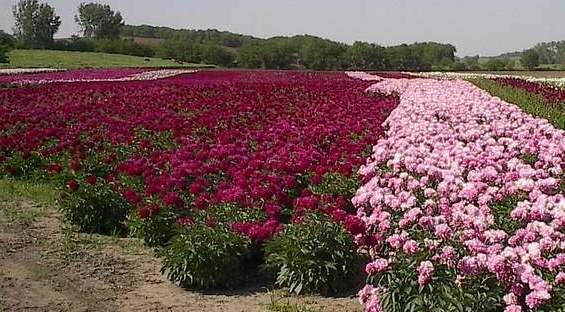 Wholesale Peonies Roots
Once again we start the year with challenges !!!....
We did get all the roots planted and now just have the weeds to contend with until dig time....
The list has been updated, for the most part, and I tried to estimate for varieties that may be small in the 3 year block (with no 4 year block roots to fall back on; as we moved off the Missouri farm last fall,)....bear with us..we are doing our best to estimate our numbers according to field records and taking some manual counts....This will be more challenging than usual; as we will see very little to no bloom due to the late freeze we had here...
To continue with the above paragraph....Peonies are tough.....but have taken quite a hit this spring....we did have 5 consecutive nights, the 3rd week in April, of 18-22 degrees for lows ,combined with 35-45 mph winds.....followed by 10" snow on April 17th.....We have accessed the freeze damage in all fields to be severe as we have ever seen it.....On 40 acres of 2,3,and 5 year plants....show most all the buds were frozen, and many varieties have damage in the foliage.....We don't think it will effect the root growth in most varieties...but will be watching throughout the summer.....
We pray you are all staying safe and healthy through this dreadful virus that knocked our nation off balance....I am actually looking forward to hoeing weeds to continue my safe distancing!!!.....We are blessed, as farmers, it has been easier for us than most, to find a little bit of normal. Weeds do not know there is a virus out there!!!...
Let me know if there is anything we can do for you!!....as always...THANKS SO MUCH!!
Give our lists a look, and if there is anything that peaks your interest....just give me a call or email.....
Feel free to call anytime if there is ever a question, we love sharing what we know about our business, and hopeful it works for you with your growing conditions.....
AS ALWAYS....WE THANK YOU FOR YOUR BUSINESS AND FOR LOOKING!!!
NOTE: We are offering special terms for 3/5 eye divisions:
5% discount for 1000-5000 roots
7 1/2% discount for 5000-10,000 roots
10% discount for 10,000 roots &up
Terms:
All orders must be paid ( in full) within the 30 day net terms (or the quantity discount will not apply ) The quantity discount will not apply to any other special pricing we may be offering.
Get your order placed, as we fill them on a first come, first serve basis.
As most of you know, until we get each variety cut, we can only estimate what we will have in numbers. We try to be conservative when we take orders, so we do not oversell. We will let you know ASAP if there is a change in your request, and let you know what options you may have.
Thanks for your business.
Operated by owners Vicki and Eric Sjulin, Swedish Touch Peonies is located in the beautiful Loess Hills of Southwest Iowa. We are just off I-29, approximately 50 miles south of the Omaha/Council Bluffs area. If you're looking for skilled, family owned and run, peony growers, we have exactly what you need.
The type of soil we use in growing our plants is called loess (pronounced luss), a German word meaning crumbly. The soil consists of a gritty, light-weight material composed of tightly packed grains of quartz, feldspar, mica, other minerals. Our unique soil and location give us a major advantage in growing quality plants, as peonies thrive in this type of environment.
Our Loess Hills extend from the southwest to northwest tip of Iowa. Wind formed the bluffs over 25,000 years ago, and the only other place like it in the world is near China's Yellow River.
We are 5th generations of Sjulins, involved with a long history in the nursery business dating back to the early 1900's. As such, we are very knowledgeable with what we grow and we pride ourselves in offering many of the selections our Grandfather grew decades ago; some he even named himself! During the blooming season, we practically live in our fields in order to provide cut flowers for the Omaha and Lincoln markets ( we've been doing this for the last 25 years.) This also enables us to recognize growth habits, dig mixes, get counts, and indulge in the tranquility, beauty, and fragrance of our peony fields!
Take a look at the peony varieties currently available in our online catalogue. As our inventory changes, we will try to keep the site updated, however, in the event you request something "sold out" we will contact you with options, and will not substitute without your approval.
When you place an order, you will be dealing directly with Eric or Vicki; so there is a contact person to take full accountability. The two of us do the majority of the work, with help from Vic's parents. We try to return calls, and e-mails as they come in.
If you have any questions about the Peonies we have for sale, please call me at 712-382-0403 or email..(that would probably be best..I'm all over the place..sometimes with cell service..sometimes without!!)
Thank you for visiting!