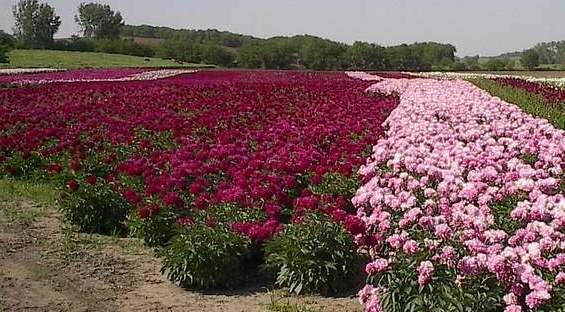 EVERYTHING WE HAVE LEFT TO SELL IS ON THE SPRING AVAILABILITY PAGE..THE RED, WHITE AND PINK PAGES WILL NOT BE UPDATED UNTIL EARLY 2024.
HAPPY FALL..TIME TO RELAX TO ENJOY THE HOLIDAYS!!!.....The SPRING AVAILABILITY page ...(this is everything we have left to sell).....has been updated with numbers and varieties....we are still selling in multiples of 25 where we can....(if we don't have the numbers of certain varieties , that does not apply)..we will ship as long as the weather holds.. Our own fields are planted..we will finish up with odd and ends in the spring.....what I have listed we will hold for you and ship in late March/April..(whenever the weather permits).....let me know if there is anything you can use...
Most of you are aware of the employee situation, (or lack of), in this country. The world of agriculture and the midwest are not exempt from the chaos this country is experiencing. We did find a couple great part-timers to help with harvest and cutting but (other than that...just family), we still need 5-7 additional people to fill the jobs we have, on a normal peony harvest. That being said, we are always looking toward a better "next year".......
Our equipment is designed to lift roots 20 eyes and larger from the ground. As we attempted to dig last fall, we lost many roots due to the small size of several varieties. They simply fell through the forks of our lifter to be buried forever!!!....(not very cost effective!!) The three year roots we dug this fall have been growing in two years of drought, and have had THREE consecutive years of late April freezes when they were 6-8" out of the ground...After some extensive research this year, we have found that the freezing can cause crown damage...All said and done, the roots definitely showed the wear, tear, and stress in size and quality......NOTE:.....the roots for fall harvest 2024, have been growing in the same location, experiencing the same conditions......therefore, we would expect the same kind of crop next season.....with ample moisture that could change....
I HOPE YOU RETURN TO THE SITE FOR ANY UPDATES FROM TIME TO TIME....
NEW CUSTOMERS I NEED A COMPLETE SHIPPING ADDRESS, PHONE CONTACT, AND EIN OR FEDERAL ID # (without this I must charge a 7% sales tax)
Note: Our minimum per variety is 25 roots....the total order minimum is still 50 per order..
Your business is appreciated, and we are working hard to give your company the best service we can provide. If something is not as expected; we will do what we can to make it right with you... AGAIN...thank you..
We pray you are all staying safe and healthy through these tumultuous times. We are blessed, as farmers, it has been easier for us than most, to find a little bit of normal.
We extend blessing to each of you with hopes the New Year is filled with good fortune and health!!
Let me know if there is anything we can do for you!!....as always...THANKS SO MUCH!!
Give our lists a look, and if there is anything that peaks your interest....just give me a call or email.....
Feel free to call anytime if there is ever a question, we love sharing what we know about our business, and hopeful it works for you with your growing conditions.....
AS ALWAYS....WE THANK YOU FOR YOUR BUSINESS AND FOR LOOKING!!!
NOTE: We are offering special terms for 3/5 eye divisions:
5% discount for 1000-5000 roots
7 1/2% discount for 5000-10,000 roots
10% discount for 10,000 roots &up
Terms:
All orders must be paid ( in full) within the 30 day net terms (or the quantity discount will not apply ) The quantity discount will not apply to any other special pricing we may be offering.
Get your order placed, as we fill them on a first come, first serve basis.
As most of you know, until we get each variety cut, we can only estimate what we will have in numbers. We try to be conservative when we take orders, so we do not oversell. We will let you know ASAP if there is a change in your request, and let you know what options you may have.
Thanks for your business.
Operated by owners Vicki and Eric Sjulin, Swedish Touch Peonies is located in the beautiful Loess Hills of Southwest Iowa. We are just off I-29, approximately 50 miles south of the Omaha/Council Bluffs area. If you're looking for skilled, family owned and run, peony growers, we have exactly what you need.
The type of soil we are growing our plants in is called loess (pronounced luss), a German word meaning crumbly. The soil consists of a gritty, light-weight material composed of tightly packed grains of quartz, feldspar, mica, other minerals. Our unique soil and location give us a major advantage in growing quality plants, as peonies thrive in this type of environment.
Our Loess Hills extend from the southwest to northwest tip of Iowa. Wind formed the bluffs over 25,000 years ago, and the only other place like it in the world is near China's Yellow River.
We are 5th generations of Sjulins, involved with a long history in the nursery business dating back to the early 1900's. As such, we are very knowledgeable with what we grow and we pride ourselves in offering many of the selections our Grandfather grew decades ago; some he even named himself! During the blooming season, we practically live in our fields in order to provide cut flowers for the Omaha and Lincoln markets ( we've been doing this for the last 25 years.) This also enables us to recognize growth habits, dig mixes, get counts, and indulge in the tranquility, beauty, and fragrance of our peony fields!
Take a look at the peony varieties currently available in our online catalogue. As our inventory changes, we will try to keep the site updated, however, in the event you request something "sold out" we will contact you with options, and will not substitute without your approval.
When you place an order, you will be dealing directly with Eric or Vicki; so there is a contact person to take full accountability. The two of us do the majority of the work, with help from Vic's parents. We try to return calls, and e-mails as they come in, HOWEVER, IN MAY, AND DURING BLOOM WE CANNOT KEEP UP, SO IT MAY BE A WEEK OR TWO BEFORE YOU HEAR FROM US...
If you have any questions about the Peonies we have for sale, please call me at 712-382-0403 or email..(that would probably be best..I'm all over the place..sometimes with cell service..sometimes without!!)
Thank you for visiting!